Setting Up An Election for Labour Party
Important Preliminary Note. #
Please ensure that you have booked your election date into the Labour Party online booking systems. If this is not completed then you may be required to pay for your election with your own payment card details.
Getting started – First Steps. #
This document is designed to take you on a step by step process of setting up your election, it may seem a long document with many things to work through, but you should find it a very straightforward process and very quick to learn how the software works. You may already be familiar with some of the options available, so there is a table of contents on your right hand sidebar to help you jump to sections that you require help with. The guide is design to be followed in order to ensure a problem free setup.
Document terminology #
Where we describe navigating to part of the software using the following as an example — Settings > Voter
This means, first navigate to the settings menu in your election dashboard, followed by the voter menu that will then be displayed.
If you haven't yet created your Administrator account, you should do so here.
https://app.choicevoting.co.uk/register
Please ensure that you enter your email address accurately as this will be required to verify your account. You will receive an email with a verification link, click this and you will be fully verified and able to continue to setting up your first election.
We offer 2 free elections, with up to a maximum of 20 voters, you can use these 2 free elections to learn the setup process and become familiar with the software in advance of your real elections, we advise that you make use of these tests.
Create your election. #
To create an election, you will need to select the green "add new election" button in the top right of your screen, as shown below.

From here, you will enter the details appropriate for your election, An election title, description and start/end dates & times.
Remember to select Europe/London for your time zone.
There is no need to add autogenerated dummy data unless you wish to use this in testing.
The Election Dashboard. #
As soon as you create and save your election, you will be taken to the dashboard for that election.
This is where you will begin to build the election.
Some points to consider during the build of an election
Do you require Choice Voting to send an email to your voters with login instructions as soon as your election time begins?
Have you prepared a list of your candidates, and candidate manifesto/statements?
Are you familiar with the vote count method you need to use?
If you require that Choice Voting sends a login information email to your voters, then this is a good time to enable that option.
Navigate to Settings, in your election dashboard, then choose the voter option.
You will then "enable" the – Enable email option as shown below.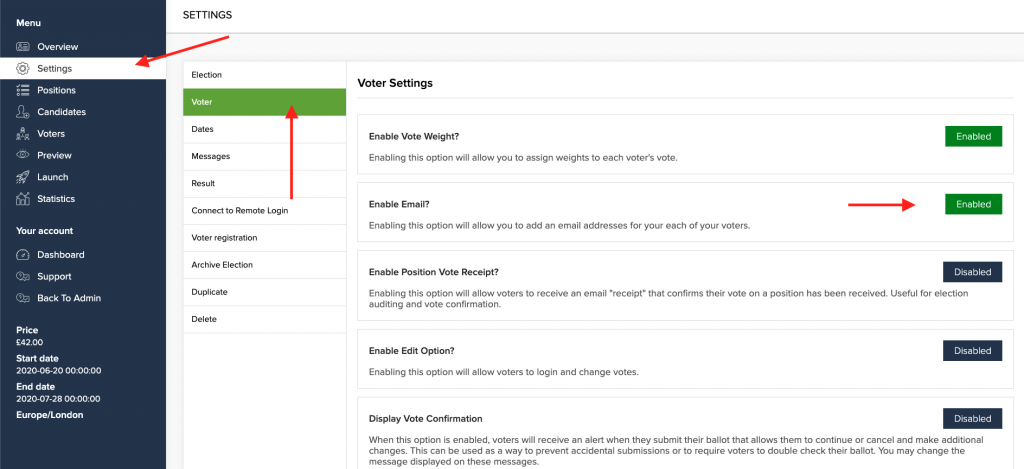 Now that you have enabled the voter email option, you have told Choice Voting that "Yes" we would like you to email our voters information at the start of the election, and also opened up the ability to import email addresses for your voters.
Building the Election #
An election comprises of 3 main setup requirements
Positions
Candidates
Voters
This is also the best order to follow for setting up the election.
Position setup #
First navigate to Positions, and then click the "Add New Position" button as shown below

This will show you the "add a position" page.
You have 3 required options, and 3 optional settings.
Enter a name for this position you are creating
Select the appropriate Count method this position will use
Enter the number of seats/winners for this position
Optional Settings
You may wish to restrict the number of candidates a voter may select in this position, here you would add a minimum number and maximum number – e.g The voter must select a minimum of 2 candidates, but a maximum of 4.
You may also add a custom message that is displayed to the voter, if they make a selection not matching your criteria.
When you have finished setting up your first position, click the "save Changes" button at the bottom of the page.
You may now repeat this process for all the positions in your election.
Navigate back to "Positions" menu option, and you will be shown a list of the current positions setup for your election. As shown below.

Candidate Setup #
Now that you have setup the positions, it's time to add your candidates to those positions.
Using the main menu, navigate to "Candidates" And select the "Add Candidate" button at the top right.

You are now on the add candidate page.
You may..
Add a candidate photo (Optional, and can be left blank)
Add the candidate to a position you created in the previous step
Add the candidates name
Add the candidates statement or Manifesto text.
To add a candidate, choose the photo from your PC or Mac, then select the position from the dropdown choices that this candidate belongs to.
Enter the name the candidate wishes to be known by
And finally enter the candidates manifesto text (Max 5000 Characters)
Click the "Add candidate" option at the bottom, and repeat the process for each candidate you wish to add.
To check all the candidates have been entered, return to the main candidates menu item for a complete list.
The basics of your election are now complete. #
Before we move onto adding voters to your election, we will first cover some of the settings available for your election.
Navigate to "settings" menu option.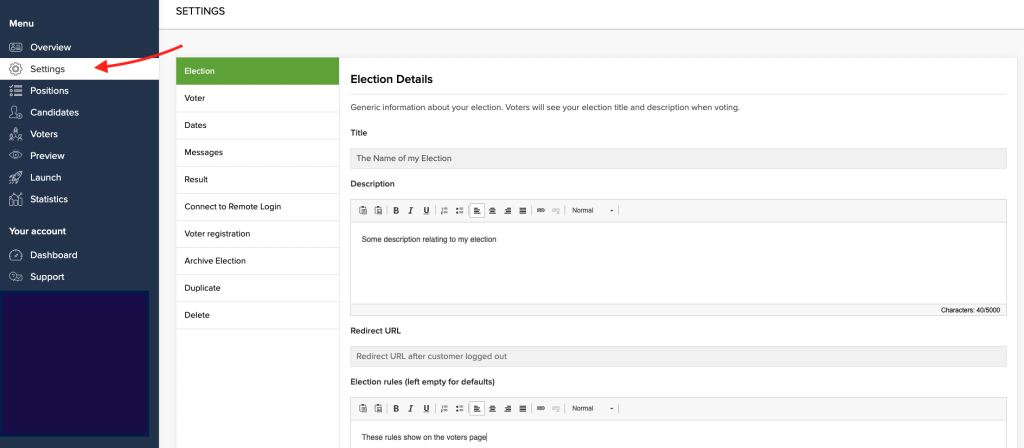 Here we will give an overview of the settings available to you, its likely you will not need most of these, but is worthwhile being familiar with them.
Settings > Voter #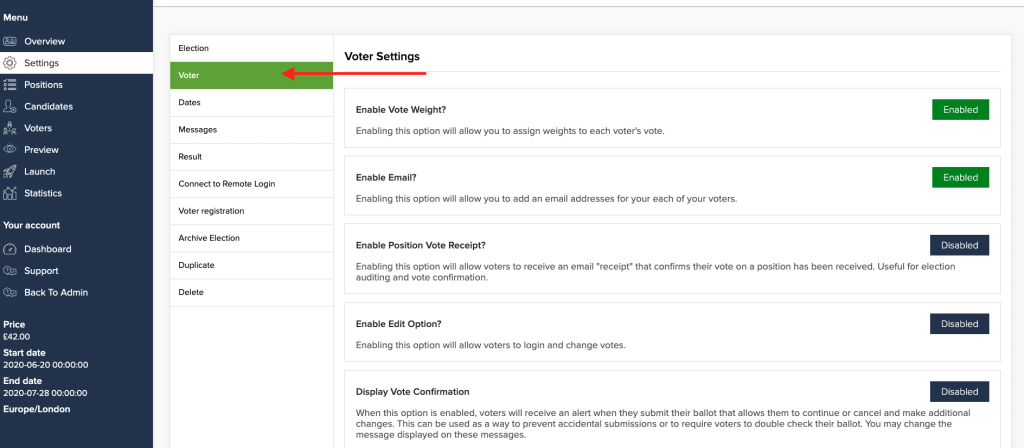 You should already have enabled "Enable Email" option, but you could also enable send a voter receipt as well if desired. It is also possible to set a message to be displayed when a voter submits a vote by enabling "Display Vote Confirmation" option. (The message to display is set in the "messages" menu area).
Settings > Messages #
It is possible to create custom messages to display to your voters at various points of the voting process.
Login Instructions
Vote Confirmation
After Election
Login Instructions
Any message entered here will be displayed above the login form that your voters will arrive at when they login to vote. this can be left blank for the default settings.
Vote Confirmation
If you have enabled the setting in Settings > voter > enable vote confirmation as shown in the image above, then this is where you enter the message to be displayed to your voter after they submit a vote, it should be short and to the point.
After Election
Any message you enter here will be displayed on the voters login page, only after the close of your election.
The following options we recommend you keep disabled for your elections as they are mostly not required.
Connect to remote login
Result
Preview your election during the setup process. #
Whilst creating your election, at any time you may check how things will look to your voters.
This is a preview only, no votes can be placed here, and some options do not display such as restricted number of candidates to be chosen.
Voter setup #
Choice Voting provides a few methods of adding voters to your election.
Manually entering each voter in turn
Allowing voters to pre-register
Connecting to a remote source such as a membership website
Importing the voters in bulk
Only 2 of these methods are likely to be relevant for your elections
Importing the voters in bulk
Voter registration method (this is available to you, but we recommend using the importing option to avoid confusing your voters ahead of your election)
The preferred option is to import the voters using a CSV file for a number of reasons.
This ensures that you have an accurate and verified list of your voters, and that list can be cleaned for non attending voters according to the rules of your election prior to uploading into Choice Voting.
It means you do not have to clean up voters that have pre registered but not actually attended your meeting.
Which will simplify the process of adding voters for you as an administrator.
It is a simple process to complete.
It is expected that you will have been provided a CSV/EXCEL file with the names and emails of your eligible voters.
If you do not have Excel or Excel online available to you, Google Docs provides a solution that will open your CSV file.
We have created a short tutorial video below to help you understand Column filtering that can be used to verify voters present in your meeting, and the importing process.
Please ensure you have downloaded our sample CSV file before you start


Voter verification and filtering #
During your meeting, you can begin to create the voter import CSV with up to date eligible voters. this could be either by entering them manually into our sample CSV, or by removing members from a pre supplied CSV file.
The following video describes a possible method of doing this.
The video demonstrates a method of filtering a membership list, and filtering by "yes" to obtain a list of members that are present in your meeting. You may the copy the relevant columns into our sample CSV.
The final file should be saved as a CSV – comma separated values format, this is the only format acceptable for importing.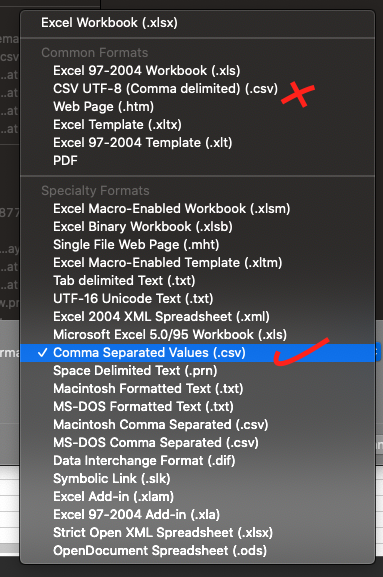 This is what your final csv file should look like – note that the original header row is complete and unchanged. #

Importing your voters into an election #
Important notes about the import CSV file
You should retain all of the headers in our sample CSV, without modification of any header name, even if you do not enter any data below those headers.
You only need 2 columns to be filled out – voter_name and voter_email – Choice voting will generate unique voter ID and Keys for you.
Launching your election #
Your election is now ready for your voters, and it is time to launch the election
 — Helpful Tip #
Due to the requirements you will have regarding eligible voters, it can be confusing knowing how and when to launch your election.
This is our advised process to take into account your need to clean up the voters list before you go live with your election.
Let's assume that you are holding your online web meeting at 7pm, and anticipate being ready to open votes at 7.30. The problem you face is not knowing for certain that you will be ready at 7.30, and also not knowing when the election may truly be ready to close.
We suggest that you set the start time for your election approx 30 minutes earlier than you anticipate starting voting, but do not launch it. You can also set the end time a couple of hours later than you expect voting to be complete. Using this method gives you time to clean up the voter list, and ensure you are ready to go live properly, at this stage, you should then launch the election, the software will realise that you are launching after the expected start time, and will therefore go live almost instantly. Having set the end time to be later than you actually expect the voting process to finish gives you some breathing space, but also allows you to manually close the election at your prefered time as shown in the next section below. This removes the risk of you setting the end time to early, and locking out any voters that haven't yet finished voting.
Ending the election early. #
If you wish to end/close the election at an earlier date and time originally set, this can be done as follows

Problems you may encounter and other  solutions. #
A voter lost the login email #
As an election administrator you are able to help your voters should they lose or not receive the voter login email.
First check the email didn't go to spam, it can happen. If they did not receive the email, then navigate to "voters" and do a search for that particular voter. From here you may copy the voter ID and Voter key, along with your election URL and send it directly to that voter.
You may find the election url on the election overview page.
Can I resend the voter login email to voters that haven't yet voted as a reminder? #
Yes, this is in settings > notifications – this is a one time action only.
Unable to paste in word document #
Pasting from word is usually without problem, however if you do find that this is causing you a problem, then we would advise that you copy the text into notepad, as a plain text document, and try to copy and paste again from notepad.(Text editor on a Mac)
I made a mistake, can I start again. #
You could start again, or you could create a duplicate of your current election and make the required adjustments before re launching the duplicate.
How do I protect my voters data and personal information? #
At the end of your election, you may delete any identifying data from your voter records, when the election closes you will see a new menu option "erase voters data" selecting this will delete any identifying data from your voter table. If you wish to retain a record of voters, you may download a CSV file before deleting the data from our systems.

Can I delete the election and data after voting finishes? #
Yes, navigate to Settings > Delete > Delete election.
This option is final, and we would recommend that you take an encrypted archive of your election first, and download a copy of your voters and your results.
The Archive file can be used at a later date to recreate the election in the state that you found it when archiving.

Can I close an election early? #
Yes, follow the directions in the image below

How do I delete a voter? #
Using the dropdown menu in your voters page, you will have the option to delete a voter.

How do I add an extra voter? #
You may add additional voters whilst your election is live. by click the add new voter button in your voters page. If you have enabled sending voters login information emails, then they will receive an email as soon as you add a new voter (only for live elections)

How do I deal with positions that must contain a female candidate? #
Where should I direct voters if they have a support issue? #
The election administrator should be the first point of contact for voters questions.
How would a voter know who is conducting the election? #
This can be communicated to your voters before the election, but will also be included in the voters login notification email sent at the start of your election (please remember to enable this – instructions here)
Where should i go if I need help? #
This document should provide all the help you require, however if there is something we haven't covered here you can get direct help via the form below.
If you do ask for help please ensure you give as much information as possible to ensure a speedy response. –
your email as an administrator
Your election name
The dates your election is due to be live to voters
The nature of the issue you are experiencing.